Truro
Click for location map (in pop up window)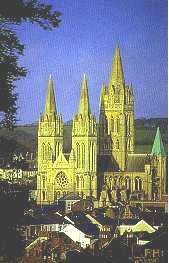 It would be hard to imagine a finer capital for Cornwall than this small, beautifully proportioned city with a long history as a port on the confluence of the rivers Allen and Kenwyn, as a coinage town for the tin industry, as a market town serving a large rural area and as a place of Georgian culture and elegance. Remnants of the old port area where the fresh waters of the Allen and Kenwyn meet the salt of the Fal estuary can still be seen - not all of the quays have been built over with car parks and superstores yet - and there are goods warehouses on the river, some of them reused by small businesses.

The cathedral, rising magnificently out of the crowded city centre, was built between 1880 and 1910, the first Anglican cathedral to be constructed in England since St Paul's. The new building, designed by J.L. Pearson, incorporated one sixteenth-century aisle from the old parish church of St Mary's which had occupied this spot for six hundred years. Inside, look out for the wonderful painting Cornubia - Land of the Saints, by the renowned Penwith artist John Miller.

The excellent Royal Cornwall Museum in River Street contains extensive collections of Cornish paintings, minerals, mining artefacts and archaeological finds, and also has a pleasant cafe.

Lemon Street is, in Pevnser's opinion, one of the most completely Georgian streets preserved anywhere. At its upper end is the Lander Monument to the Truro brothers who explored Africa; the figure of Richard Lander on top of the column was sculpted by the celebrated Neville Northey Burnard from Altarnun. The granite City Hall on Boscawen Street was built in 1846 in the Italian Renaissance style; following extensive interior remodelling it is now a 'Hall for Cornwall' offering unrivalled facilities for theatre, concerts, conferences and markets in the heart of Truro.

The centre of Truro offers a good range of shops from well known national chains to small individual stores, something to suit everyone.