Wadebridge
Click for location map (in pop up window)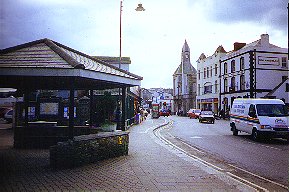 Sand, silt and the opening of the railway to Padstow in 1899 combined to end the long history of Wadebridge as a port. The old days are recalled by quays which line the Camel below the 15th Century bridge. It replaced a dangerous ford which was overlooked by chapels where travellers could pray before attempting the crossing. The piers of the bridge are said to be built on woolpacks for foundations.

Wadebridge today is a pleasant shopping town which has been recently pedestrianised along it's main street. The Camel Trail runs from Wadebridge in one direction to Padstow and to Bodmin in the other. This traffic free long distance cycle way is a perfect way to see the Camel estuary, and the the bird life which abounds.

Bicycles can be hired by the day, from several companies both in Wadebridge and Padstow.