Saltash
Click for location map (in pop up window)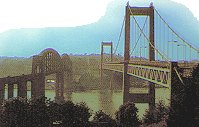 The Gateway to Cornwall. Here the two bridges, Isambard Kingdom Brunel's magnificent wrought iron, Royal Albert Bridge (Railway) opened in 1859 and the more modern Tamar road bridge opened in 1961. The Royal Albert Bridge was arguably his greatest engineering achievement. Built to admiralty specifications, it had to span the river 100 ft. above high water mark, with no more than one pier. The bridge was opened by Prince Albert himself on May 2nd 1859.

The road bridge opened just over 100 years later using the same crossing point as the Ashe-Torre ferry which had existed when Saltash was the foremost seaport between Dartmouth in Devon and Fowey in Cornwall, at a time when Plymouth barely existed.

Today Saltash is a flourishing modern town, which is now by passed by a tunnel leading to and from the road bridge. Many inhabitants regularly commute to Plymouth for employment. In Culver street stands the old cottage that was the birthplace of Mary Norman, the first wife of Sir Francis Drake who herself was Mayoress of Plymouth.