Lostwithiel
Click for location map (in pop up window)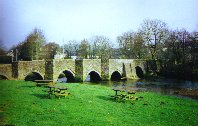 Lostwithiel lies in a bowl surrounded by hills where the fine 15th century five arched bridge is the lowest crossing point on the river Fowey. Up until the 1600's the river was navigable as far as Lostwithiel which had been the 13th century capital of Cornwall. The remains of the 13th century Old Duchy Palace which later became the Stannary Offices and County treasury can still be seen. Lostwithiel became a Stannary town where tin from local mines was brought to be weighed and assayed. In the town is the impressive church of St Bartholomew's with its lovely spire.

Just outside the town is Restormel Castle, now owned by English Heritage and open to the public, which was the stronghold of the Earls of Cornwall. Now one of the most romantic ruins in Cornwall. The considerable remains include the Gate, Keep, kitchens, Great Hall, private rooms, and guest chamber. Throughout the year events and re-enactments are staged within the castle.

Towards Bodmin is Lanhydrock House set in 450 acres of wooded parkland this house is owned by the National Trust and open to the public. Events are also staged in the grounds including a summer craft fayre and a Jazz Concert.