Fowey
Click for location map (in pop up window)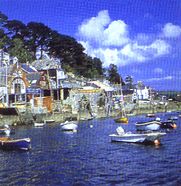 Narrow streets run steeply down to the quays of this waterside town. Although small it is a thriving commercial port which since the middle ages has supported by trade rather than fishing. with a natural harbour where ocean going ships, still used to transport China Clay from the docks about a mile upstream from the town, can often be seen.

In medieval times daring sailors known as 'Fowey Gallants' featured in many campaigns during the Hundred Years War with France and continued their raids even after Edward IV had made peace.At the mouth of the river there are remains of a 14th century Block House which was one of a pair, the other can be seen on the east bank of the river, by the village of Polruan. between these houses a chain could be raised to seal off the harbour from raiders. Above Readymoney Cove stands the remains of St. Catherine's castle, built by Henry VIII.

Fowey was the home of the author Sir Arthur Quiller Couch - 'Q' in who's book Fowey appears as 'Troy Town'. Across the river at Bodinnick is 'Ferryside' the first home of Daphne du Maurier who later moved to Menabilly about a mile to the west of the town.

There is now an annual festival of literature and the arts named in her memory.The annual Fowey Regatta and Carnival week is held in August each year the highlights of which include a visit by the Red Arrows, fireworks displays and a candle lit parade of small boats down the river.

It is well worth taking a boat trip from the Town Quay at high tide, up river, past the china clay jetties to Golant and beyond as far as Lerryn.

Fowey is a town steeped in history which has managed to maintain its' character and has numerous good restaurants and pubs.