Bude
Click for location map (in pop up window)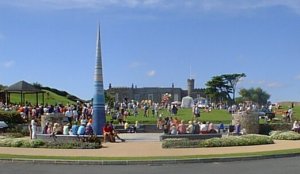 The town developed during the last century as an agricultural port serving the large rural area around it. It is one of the few parts of the Southwest to have a canal where incline planes were used instead of locks to raise the barges to different levels, and the barges were fitted with wheels! The canal is now abandoned, although some work has been done to restore it, and it is possible to walk along some of the route.

Bude is now a modern holiday centre and popular centre for surfing and water sports.

There are several good beaches within easy reach of the town and most have lifeguards in high season. Care should be taken as bathing can be dangerous, especially at low water.

Bude hosts a Jazz festival over the summer bank holiday weekend, and the town has it's own carnival in August.

Bude is an ideal centre to explore the north of Cornwall with the north coast of Devon also in reach.